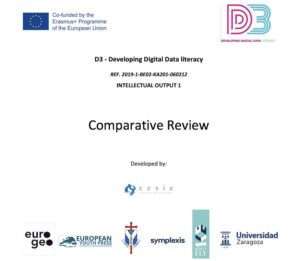 The first output of the D3 project has been published. It is a European review of digital data literacy opportunities in terms of school curricula, qualifications and availability of digital open data tools in secondary school. The report also addresses guidelines and a framework for inclusion of such data and related competences in secondary schools.
Both desk and field research were carried out, making  connections between the EU Digital Competence Framework (DigComp 2.0) and school curricula. The desk research included an analysis of available open data from National Ministries, legislative frameworks, as well as an identification of open data tools, digital data literacy and open data in the school environment, training courses, qualifications and curricula.
The field research involved interviews with secondary school teachers, to gather their opinions on the use of technology and open data in their school as well as their personal knowledge of informatics, the digital world and European initiatives in the field.